(covid) - 19 Opportunities to Take Advantage of, For the Benefit of People and Businesses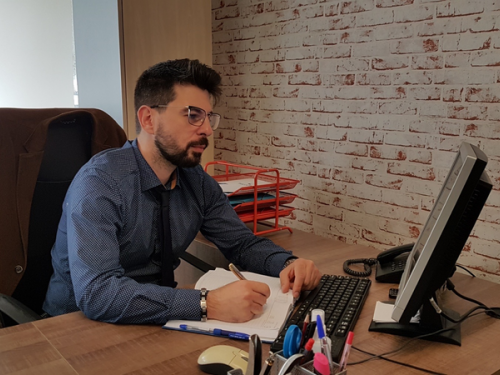 Article by Barbas A. George, MBA Economist
The article was published in the June issue of STIGMA under the title "COVID-19 ... a new relationship model".
"One of the most important things my father taught me is how to turn a negative consequence into a positive one."
Michael Jordan - The Last Dance
The pandemic shook the system, affecting health, the economy and social cohesion. According to a survey by kariera.gr, 7 out of 10 state that their work has been quite affected by COVID-19. One in two has thought of switching to another profession due to the coronavirus crisis. The state of emergency posed by societies for health reasons, extending to economies, is historic and has created unprecedented thoughts. Thoughts that will accompany us in the coming years.
Below we try to approach the effect of Covid-19 with a positive sign:
1. Save time using new ways of communicating for business purposes. Unnecessary contacts and travel were reduced and replaced by teleconferencing. The wide familiarity with applications such as zoom, viber, skype, facebook etc. remained as a legacy.
2. Turning more businesses into online sales with the interaction of the consumer public in online transactions through the use of debit cards and more intense use of e-banking. Online shopping has also led to the development of delivery beyond the traditional industries, such as catering.
3. State services, which are becoming time consuming, have been simplified and modernized, showing the way we can follow. For example, we have now seen responsible declarations and authorizations through taxisnet codes and e-banking codes, electronic certificates of first instance, etc.
4. New business liquidity support programs by the state (repayable advance) and financial institutions (TEPIX II, interest subsidy), which, although post-crisis and can be improved, have gained access to liquidity from a wider range of companies that had excluded from the crisis a decade ago.
5. We have intensely entered into processes of reflection on the viability of companies and the needs of employees. Beyond everyone's point of view, we are talking about a path that can start from the employer-employee consultation and end in the employee-landlord consultation.
6. The citizens took, at the given moment, the fate of the state in their hands. They respected the public health system which obviously needs improvement in our country. In our country there are few ICUs so it was realized that in case of outbreak of the virus we would live in painful situations. There have been times when the important role of medical staff has been universally recognized.
7. The taboo of distance work was broken for several companies. Teleworking has entered the lives of employees and companies and is expected to form new data in the future. There was also a demand in the labor market for specific specialties and for employees with special characteristics, such as e.g. knowledge of telematics applications, professional diplomas for driving a car or moped, ability to work in transport, etc. The important role of professions such as employees in pharmacies, bakeries, supermarkets, distributors, cleaning workers, etc. was recognized.
8. Opportunity for Greek tourism through the promotion of our country (and if you want Epirus) as a Safe place from Covid. Even in the wake of the boom, we see transnational agreements to defend tourism, where experts are giving the green light. Perhaps the sacrifices bring immediate benefits to this sector of the Greek economy if we consider that as a Mediterranean country we compete in Italy with Italy, Spain and Turkey.
9. We appreciated the important role of teachers. Teachers and teachers can have a catalytic effect at all levels of education, whether it is on courses or activities such as arts and sports while testing has been done to leverage technology in the education system. For example, a sick student in the future will be able to fill in the gaps through distance learning.
10. Engaging in sports and generally turning to a healthier life through movement 6. A habit that if perpetuated can contribute to the "healthy mind in a healthy body". The bottom line is that we can at least do what we can to keep our body in good shape (since there are times when this also plays a role).
11. A kind of intergenerational solidarity has been cultivated. The younger ones, even though they realized that they would come out of this test unscathed, showed to the vast majority that they respect the fact that the coronavirus affects older people and those who suffer from chronic diseases. We realized that together we can succeed.
12. Our planet has received a dose of relief - an environmental "breath". Studies have shown that the Earth trembled less, especially in March and April. Energy consumption was reduced as was the emission of gaseous pollutants.
13. Integration of cleanliness and hygiene in our daily life in a general context with objective criteria. Habits have been established, which as a point, are characterized by the term politeness and do not only concern the coronavirus.
14. Filtering reliable information, with consumers suspicious of "fake news". In the first days, they emptied shelves of antiseptics, toilet paper and pasta, which proved to be meaningless. It may be temporary, but the model of experts and scientists speaking at critical times has been shown to lead to cool reactions from citizens. It has been internationally observed that a lack of leadership responsibility can lead to irresponsible citizens…
15. International consultation (always with disagreements) with the World Health Organization to formulate a central strategy and to process the statistics of the national health organizations. Despite the competition for vaccine, tests, masks and antiseptics, for obvious profit reasons, the impression is that logic will prevail.
16. We watched Jef Bezos announce a profit increase for Amazon at the beginning of the crown season, Netflix had 16 million new subscribers, social media artists performing live, and we got to local businesses launching YouTube channels for sessions, personal training, yoga, lessons for children and much more. In any case, there were many who "sharpened" their minds in the face of the possibility of developing their clientele and sales.
17. We have shown our good self by choosing to act more responsibly and gain more knowledge, where conditions really require it. Despite the distances we had to keep, we came close to our own people. We also realized that there are places we did not know how beautiful and untapped they are. As the dining areas remained closed, we discovered that nature does not need human intervention to become a place of entertainment.
18. Overworked organizations took a break and are ready to restart. Especially for those who dealt with the issue calmly, it was a period of de-stressing. Such cases are, for example, the self-employed, the employees of commercial stores and the food workers. Finally, for some, free time was found to do things they could not do in the pre-coronavirus era.
19. But the most important thing is to prioritize and evaluate the important things in life. The appreciation of a handshake, a kiss, a smile and any direct contact. The appreciation of freedom and in general some self-evident concepts that we had to be deprived of in order to realize their value.
There was still a lot to add or subtract.
In the passage of Covid-19 through our lives, relationships were tested and borderline situations were created. We understood new rules and learned to protect each other.
What is certain is that we come out of this passage wiser...